via
"Welcome to Hollywood! What's your dream?
Everybody comes here; this is Hollywood, land of dreams..."
Admit it...after a rotten day, when you just need to climb into your bunny slippers and curl up under the covers with something the brain doesn't have to participate in, nothing works quite like watching a piece of fluffy escape popcorn. No matter how many times you may have already watched it!
via
...Sabrina, Roman Holiday, To Catch a Thief, Holiday, The Holiday, Houseboat, Moonstruck, The Princess Diaries, You've Got Mail, Sleepless in Seattle, Miss Pettigrew Lives for the Day,Emma, Ever After, Must Love Dogs, Under the Tuscan Sun, Pride and Prejudice, The Lake House, Bridget Jones Diary, Adams Rib, It Happened One Night, Legally Blonde, The Princess Bride, Indiscreet, That Touch of Mink...the list is endless, filled with complete indulgence,mindless, blissful, romantic, fun, perfect escape.
via
Probably at the top of that very long list of guilty pleasure viewing you will find Pretty Woman. We may not advertise our dedication to this one, but after 25 years it still works! A timeless tale of the girl from the wrong side of the tracks, in this case a good-hearted, wiser than she knows, smart-mouthed hooker Vivian (Julia Roberts in her break-out role), scooped up and taken in by the handsome seemingly soulless rich guy Edward (Richard Gere), an emotionally shut-down millionaire in need of directions and direction. Why does this film still work--haven't women moved well beyond the "rescue me" fairy-tale era???
Vivian gets offered a condo and cash and walks away so we can't throw her onto the white horse completely.
"When I was a little girl, my mama used to lock me in the attic when I was bad, which was pretty often. And I would- I would pretend I was a princess... trapped in a tower by a wicked queen. And then suddenly this knight... on a white horse with these colors flying would come charging up and draw his sword. And I would wave. And he would climb up the tower and rescue me. But never in all the time... that I had this dream did the knight say to me, "Come on, baby, I'll put you up in a great condo." Vivian wanted to change her life not just her "geography" and yes she wanted "the fairytale". Another Cinderella story...of course, but in the end Pretty Woman works because of chemistry.
via
"In case I forget to tell you later, I had a really good time tonight."
This Cinderella movie could have been a much different story if screenwriter JF Lawton's original idea had been filmed. A darker tale, with the original title of 3,000, was written with a less than "happily ever after" ending in which Kit and Vivian are on a bus headed for Disneyland with Kit excited about a fun day paid for by Vivian's week with Edward, and Vivian simply "stares out emptily ahead." No fire escape, no limo, no kiss.
via
It was the screen chemistry between Julia Roberts and Richard Gere that took the film onto a totally different course...and it is the spark and crackle of their relationship that after 25 years keeps this movie at the top of our bunny slipper viewing lists.
via
Lawton has said that
"During this whole thing, there was all this whole debate about 'How do we end it, how do we save her?' without it feeling like a cop-out," . ..But the chemistry between Roberts and Gere, it is palpable on the screen, it was palpable in auditions. You can't really see how it could end any other way, because they just light up with each other." Indeed!
via
Gary Marshall's direction focused on Vivian as a

"girl who wanted to change her life, and did." Maybe that is one reason we root for Vivian and see her as not your everyday Cinderella-despite the safety pinned boots to Rodeo Drive transformation.
In the end it was Gary Marshall's vision that drove Pretty Woman's storyline
"My vision was a combination of fairy tales," he remembered. "Julia was Rapunzel, Richard was Prince Charming and Hector (Elizondo, who played Regent Beverley Wiltshire hotel manager Barnard Thompson) was the fairy godmother. It didn't seem like a vision everybody would have, but I did."
via
That vision and a pitch perfect cast created a movie we can all quote two and a half decades later, and that even the most ardent independent woman will have to admit she loves and watches it at least once a year-Happy 25th Pretty Woman.
Edward Lewis: "So what happens after he climbs up and rescues her?"
Vivian: "She rescues him right back."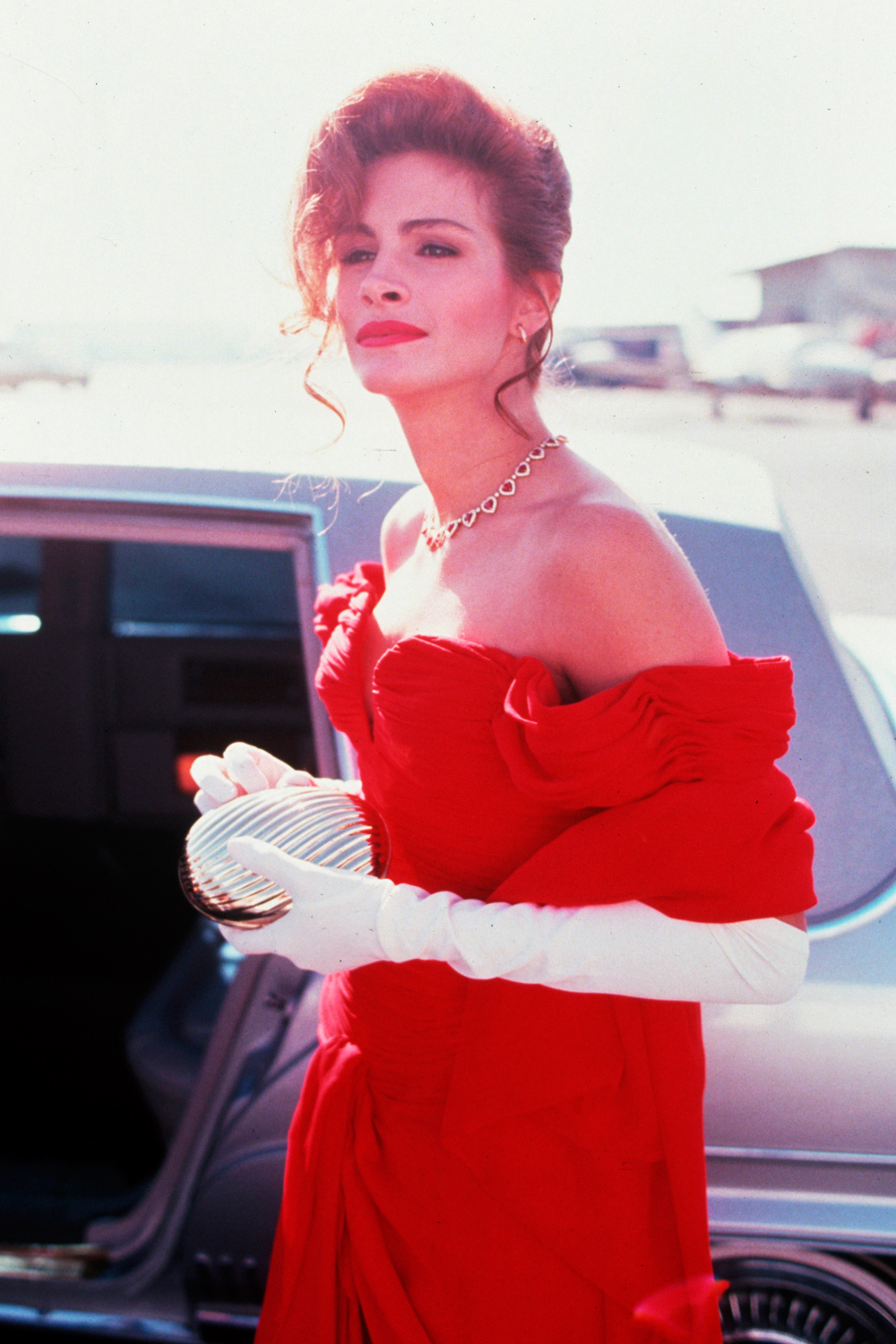 "...Some dreams come true, some don't; but keep on dreamin' — this is Hollywood. Always time to dream, so keep on dreamin.'