via
I think my favorite part of Holiday Shopping is Window Shopping.
Bergdorf Goodman
via
Tantalizingly decorated Windows have always been one of the best part of retail at the holidays--forget what's inside the stores-though the windows are of course styled to lure you in-I adore a well dressed window for any season, but especially for the Holidays.
Bergdorf Goodman
via
Traditional holiday windows filled with childhood wonder still pull me in -Macy's, Lord and Taylor, Harrods, Selfridges... all sparkle with snow globes, enchanted Night Before Christmas moments, Fairy Tales, Santa's Workshop of course and even Paddington Bear.
Selfridge's
Macy's
Saks Fifth Avenue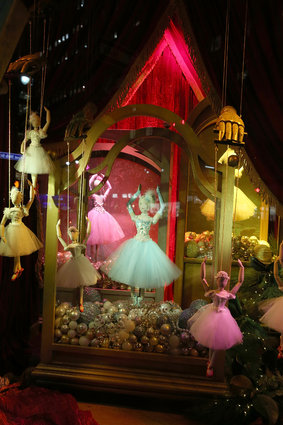 Lord and Taylor
Harrod's -via
Holiday windows are of course a "can you top this" affair between retailers in major cities. Sadly in my city we no longer have a downtown filled with glittering department store windows, our department stores have vanished from the downtown area and somehow windows at the mall don't do it...Holiday windows may be in fact a dying art form, something we can only remember from childhood---I don't think you see great holiday displays on line... so I love to see how small shops in local neighborhoods do their windows. They may not compete with Baz Lurhmann's designs for Barneys but thoughtful, creative colorful windows that make you smile will always bring me through the doors of local shops.
Baz Luhrmann for Barneys
Some may enjoy a Pub Crawl for me it is a Holiday Window Crawl. Bergdorf's rarely disappoints and I admit to being pulled in by any snowman, teddy bear, or enchanted magical display that tells a great story and is designed for generations to share and remember. No matter what reinvention and innovation retail shopping may go through I hope the tradition of Holiday Window Hopping will remain.
Bergdorf Goodman