"I'm not an actor, I'm a movie star" Peter O'Toole in My Favorite Year.
Peter O'Toole was both and so much more...an actor with a capital A on both screen and stage. His was a face and a talent that you could not take your eyes from. He commanded and owned the stage or the screen he played upon, and considering the company he kept from Olivier to Burton to both Hepburns that was impressive in and of itself.
In a journal entry when he was 18 O'Toole wrote
:
"I will not be a common man. I will stir the smooth sands of monotony. I do not crave security. I wish to hazard my soul to opportunity."
It was in David Lean's Lawrence of Arabia in 1962 that O'Toole came to stardom portraying T.E. Lawrence
, he beat out Marlon Brando and Albert Finney for the role that he would be identified with his entire life and the one that brought him his first Oscar nomination.
He was nominated 8 times for an Oscar and first refused an honorary turn hoping another Oscar-worthy role would come his way telling them to wait til he was 80-''I am still in the game and might win the bugger outright.''He did accept his honorary award in 2003.
He looked like a beautiful, emaciated secretary bird … his voice had a crack like a whip … most important of all you couldn't take your eyes off him … acting is usually regarded as a craft and I claim it to be nothing more except in the hands of the odd few men and women who, once or twice in a lifetime, elevate it into something odd and mystical and deeply disturbing. I believe Peter O'Toole to have this strange quality. - Richard Burton
He was a smoker, a drinker, a hellraiser...flamboyant, outspoken and charming with glorious blue eyes that captivated co-stars and audiences alike.
I'm not sure when my crush on Peter O'Toole began-perhaps it was watching Lawrence of Arabia, The Lion in Winter, Goodbye Mr. Chips, or My Favorite Year but probably it was How to Steal a Million opposite Audrey Hepburn-charming, suave, funny, utterly adorable.
In July of 2012 Peter O'Toole publicly retired from acting stating: "...it's my belief that one should decide for oneself when it is time to end one's stay." and bidding "the profession a dry-eyed and profoundly grateful farewell." It is safe to say that they don't make 'em like that anymore. Adieu Peter O'Toole.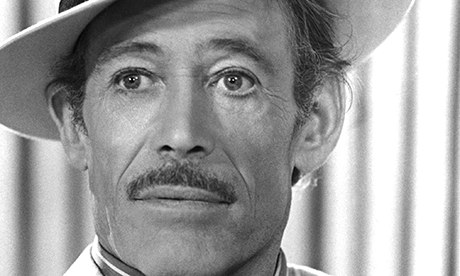 My Favorite Year via The Guardian
''If you can't do something willingly and joyfully, then don't do it,''