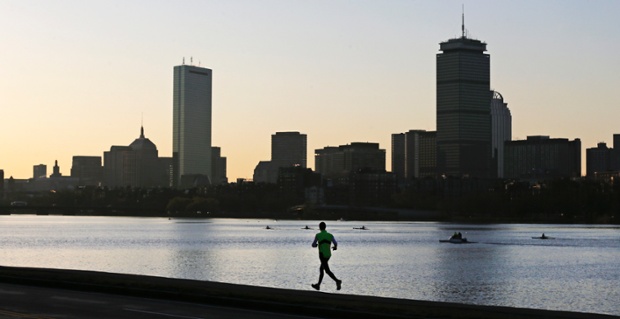 " So let each dweller on the Bay Fold Boston in his heart"
Ralph Waldo Emerson
I am not a runner, never could be-what's my hurry :) but once a year if you live in Boston running is what it is all about. Patriot's Day and The Boston Marathon is the day we put our boots and mittens away and begin to live Spring. Sometimes it is snowy or rainy or even hot, but Marathon Monday is always a celebration and a marker of new beginnings. On this Monday it was a beautiful day for Patriot's Day, ideal running and spectator weather-the day which starts on the Lexington Green and in Concord with reenactments of the battles that gave birth to Revolution and ends at the finish line on Boylston Street in Boston. On this Monday,however, the day was filled with paradoxes-joy and cheers followed by terror, trauma and horrific images of pain, fear, panic and unfathomable sadness. The week would bring anger, it would bring grief, it would be extraordinary anxiety, but it also brought bravery, heroism, and lessons on what it means to run toward and be a part of this most genuine of American cities. Perhaps unlike any other American city Boston not only embraces but breathes its history and tradition, and we don't take that legacy lightly.
My most visceral reaction throughout this terrible week was how to talk to kids-how to reassure them it is OK to go to a Parade, a ballgame, the 4th of July Fireworks or stand and watch the Marathon run by on a Spring day on April vacation? How to be sure they feel safe and not afraid to go out and play- even in their very own backyards where in fact terror did hide. I looked as many did to the simple words of Fred Rogers...
"When I was a boy and I would see scary things in the news, my mother would say to me, "Look for the helpers. You will always find people who are helping." To this day, especially in times of "disaster," I remember my mother's words and I am always comforted by realizing that there are still so many helpers – so many caring people in this world."
via
How often in our lives do we choose not to run toward something but rather go the other way? How many lives were changed, how many lives were saved ,by those that ran toward the danger and fear this week. We expect to be protected but those who have chosen to put their lives between us and danger---never again will we look at a Boston Police officer and think-where's the Dunkin' Donuts? The bravery and caring of all the forces involved this week was extraordinary and we thought so often of their families at home watching live on television as they risked their lives for us. It was the ordinary folks, however, that connected and resonated with Mr. Rogers words in our heads- the volunteers that carried people to medical care, the spectators that jumped in from the crowd to tie wounds or sit with victims til medical help could come, the runners who having just run 26 miles kept running to hospitals to give blood or volunteer. Even the smallest gestures revealed our soul as a city and as human beings--countless acts of bravery and courage without thoughts of safety were seen-countless gestures of people reaching out and helping- neighbors offering stranded runners phones to let loved ones know they were OK, a place to rest, rides, shelter, orange juice...
The long week, that most of us walked through in a fog of uncomfortable unrest, would come to an end Friday night. Even the weather on Friday was a bit disconcerting-unseasonably muggy and humid, overcast and gusty. The day began with a robo-call alert introducing us to a new phrase in our lives "shelter in place" we were told...and so we did. The day ended as if we were watching a movie or crime drama but it was really real, just a few miles down the road on streets we know well. Once the news was released that "we got him" people poured out onto the streets to cheer and give thanks to first responders, police, state troopers, Swat teams and FBI personnel that captured a terrorist in our midst. The scenes of this week were surreal and so difficult to get our heads around-not in our town-not in Boston-but they happened here-bombings, open fire gun fights, bomb squads on alert, threats and fear and almost cinematic drama. What we know will shine through all of the pain,however, is Boston, the city that we love, the people that got up Tuesday and moved forward, the "helpers" that Mr. Rogers told us to look for-they were there!
A police officer brings milk to a
family with young children in Watertown who were out of milk during the lock down on Friday
via
Maybe this Monday, this week, so unlike any other we have known, has shown us that running toward it can be a model to base so much on-How often in our lives do we turn back, do we not take that step, not offer that hand, not make that gesture. We don't have to run into danger to demonstrate what it means to help-the smallest act can heal. The long week may be over,but for so many the sadness will never leave and it is the victims, the wounded, and even the city itself that needs small ,helping, caring acts-Begin with donating to The One Fund Boston established by the Governor Patrick and Boston Mayor Menino to help those affected.
"The townsmen braved the English king, Found friendship in the French, And Honor joined the patriot ring Low on their wooden bench. O bounteous seas that never fail! O day remembered yet! O happy port that spied the sail Which wafted Lafayette! Pole-star of light in Europe's night, That never faltered from the right. Kings shook with fear, old empires crave The secret force to find Which fired the little State to save The rights of all mankind. But right is might through all the world; Province to province faithful clung, Through good and ill the war-bolt hurled, Till Freedom cheered and the joy-bells rung." Ralph Waldo Emerson
via