"I am extremely disappointed to see that we have used practically no pearls at all in the past few issues. In fact, many necklines could have been helped by pearls worn inside the dress that show inside the cutaway sides and back of most ordinary dresses on top...
I speak of this very often -- and as soon as I stop speaking the pearls disappear.
Nothing gives the luxury of pearls. Please keep this in mind."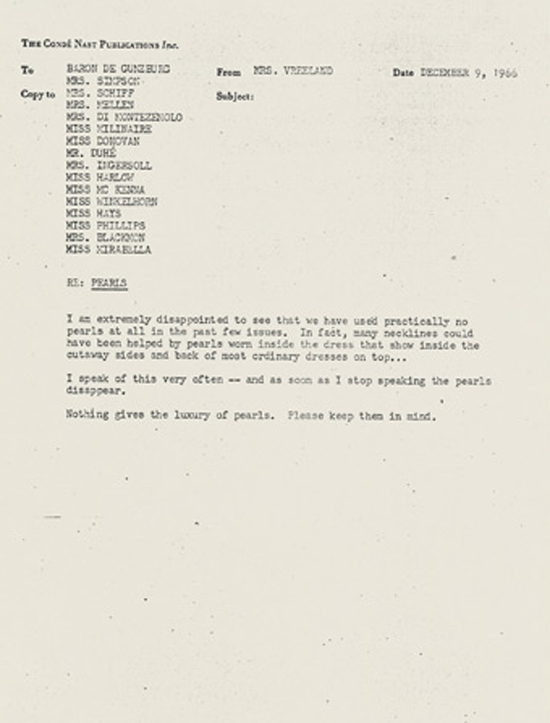 Long before Facebook and Twitter and email there were steno pads, and dictation and Memos and Diana Vreeland, the doyenne of fashion publishing, made sure her voice and opinions were known to all --not through an inter-office email or a post on a blog or Facebook page or a Tweet to followers but through a typed Memo that she dictated to her assistant while in her bath each morning. The Memos ranged in topic and were as opinionated and forthright as Ms. Vreeland. These Memos are treasures providing a behind the pages look at how she ruled the fashion planet.
The publisher Visionaire received over 400 of Diana Vreeland's memos written to her staff at Vogue between 1966 and 1972. Visionaire received permission to publish over 150 of the memos in a limited edition format-an amazing look behind the pages of Vogue and one of fashion history's most fascinating icons. Diana Vreeland defined the way we saw and consumed fashion as fashion editor at Harper's Bazaar and Editor in chief at Vogue and later in her life as curator of the Costume Institute at The Met. She influenced every inch of the fashion world for over five decades and these memos are at once quirky, funny,and insightful-treasures all!
Diana Vreeland by Horst P. Horst
Our cover situation is drastic.
I do not hear from anyone an idea or a suggestion of a face or anything that would be suitable …
We are on the verge of a drastic emergency.
Visionaire 37: Vreeland Memos
-
available on Amazon
"There's only one very good life and that's the life you know you want and you make it yourself."
-Diana Vreeland
Diana Vreeland in her "Red Room" designed by Billy Baldwin
"Style was a standard. Didn't hurt anyone… But you gotta have style. It helps you get down the stairs. It helps you get up in the morning. It's a way of life. Without it, you're nobody. I'm not talking about lots of clothes."
-Diana Vreeland